I attended usability workshops at the User Interface Conference and was a CMS panelist. To fully understand web browser and cross-platform issues, I participated in Penn's ISC web browser testing teams.

I routinely design and perform usability tests before launching web sites. Examples from user experience testing at the University of Pennsylvania School of Veterinary Medicine are below. First determining the audience, a variety of targeted users were observed as they followed the script and searched for topics on the web site.
The image on the left is a portion of a test script that I wrote. The answers were tracked and later recorded in a spread sheet like the image below right. Design changes were implemented prior to launch based upon the patterns that were revealed during the usability testing.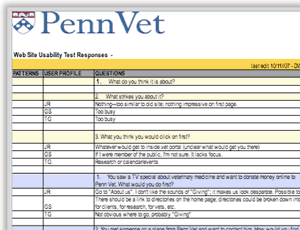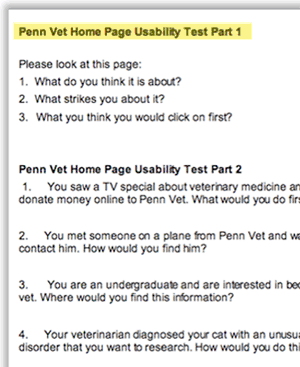 At Penn Vet, several tools were designed to assist faculty and staff develop content for their web pages. The document on the left shows a portion of instructions of the process. On the right is an example of a completed site map or "tracking tree".